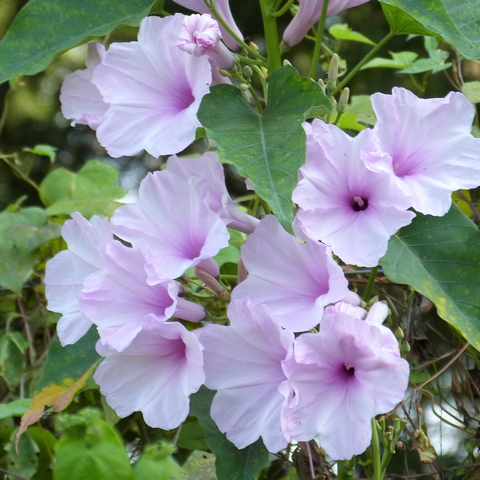 Common Name
Biological name
Type
Family
Native Range
Zone
Height
Spread
Bloom Time
Bloom Description
Sun
Water
Maintenance
Suggested Use
Flower
Attracts
Tolerate
morning glory bush


Ipomoea fistulosa


perennial
Convolvulaceae
Mexico
2 to 11
6.00 to 10.00 feet
3.00 to 6.00 feet
June to October
Purple with white throat
Full sun
Medium
Low
Annual
Showy
Hummingbirds, Butterflies
Deer
Bluish-purple to pink three inch trumpets are borne in succession throughout summer and into fall on this upright to loosely open and spreading shrub-like tropical. The Morning Glory Bush is considered root hardy throughout much of zone 9. Provide your plants with a warm protected site, a well draining soil, and extra protection during hard or extended freezes for the best results.
The Morning Glory Bush or Gloria de la Mañana is a vigorous tropical and can potentially reach nine feet high or more in frost free climates. It is often recommended that you prune it back fairly hard during winter to produce a fuller denser plant with the most flowering tips.
This page last updated or reviewed [210805]